The overarching aim of the UK Prevention Research Partnership (UKPRP) GENIUS school food network, within the current funding period is to build a community working towards a more health-promoting food and nutrition system in UK schools. The ultimate vision of the GENIUS network is to harness the expertise and experience of a wide range of stakeholders to drive excellence in all parts of the UK school food system to benefit the health of all pupils.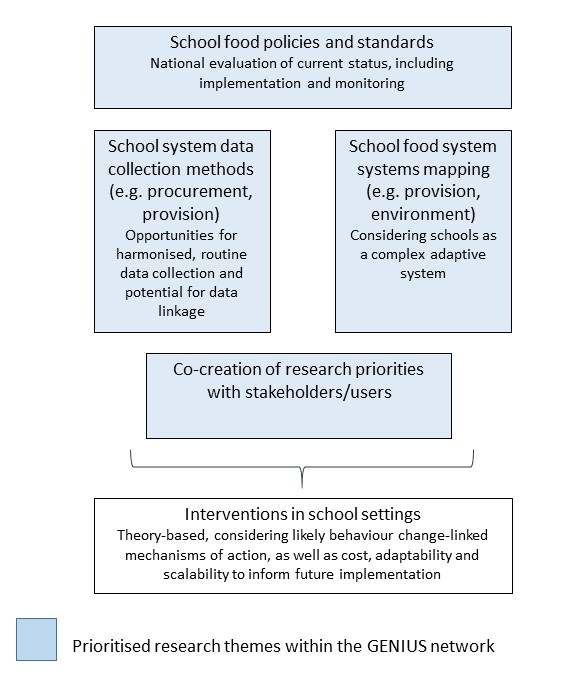 Objectives of the network are to:
build a network of researchers and non-academic stakeholders working within the UK food and school systems
facilitate interactions that do not currently exist between policymakers, practitioners and academics
build research capacity regionally and UK-wide, both within the academic and non-academic setting, including schools, school catering services, policymakers and academics
use the network to gather data regarding the school food system in the four different UK nations
use innovative research methodologies, such as systems mapping approaches and network analyses, to understand how the school food system operates as a complex adaptive system, and how the network develops and functions
identify areas of best practice that may lead to more evidence-based practice and policies in relation to school food
co-produce with project partners and stakeholders key priorities in terms of changes to practice to be recommended to schools
co-produce with project partners and stakeholders key priorities in terms of research questions, use pump-priming funding to support data collection, and develop larger scale funding applications which will, in turn, sustain the network
GENIUS Network Activities
We are working towards a more health-promoting food and nutrition system in UK schools, building a network that considers the food system across the preschool, primary and secondary school settings in the UK, and school food provision in order to influence the quality of children's diets and reduce inequalities in dietary intake.
The network is bringing together researchers from a range of backgrounds, including nutrition, epidemiology, public health, sensory science, health economics, health informatics, health psychology, education, planning and policy. Findings from network activities will be presented widely, in both the academic and non-academic settings, to make sure the findings have an impact.
Inclusion of project partners who are actively involved in the provision of school food from across the UK, including from local government, catering providers, pupils and parents, make sure the work of the network is immediately useful. Together, this team of academics and non-academics will ensure the development of research priorities and questions that are relevant in the school setting. Funding applications will be developed based on the initial co-production of research questions and priority areas during network activities, working in partnership with policy makers and schools.
Activities will facilitate interactions between academics, policy makers and practitioners to generate fresh insights on this important challenge.
Understanding the current food system and building a network of those interested in and working in school food will advance research and policy around the food environment in schools.